OneDrive for Business
Secure and reliable cloud storage
Included in Bogdan's Bundle
One place for everything in your work life
OneDrive for Business is a place where you can store, sync, and share your work files. As part of Office 365 or SharePoint Server 2013, OneDrive for Business lets you update and share your files from anywhere and work on Office documents with others at the same time.
Features
Save your work files to OneDrive for Business so they're always with you.
Get work done together with anyone at any time.
Show more
Share

Securely share your files with colleagues, business partners, or customers. You control who can see and edit each file.
Contribute

As part of Office 365, OneDrive for Business lets you use familiar tools to create, edit, and review documents in real time and even discuss them on Yammer
Manage

Keep everyone working on the most recent version of a document, and view or restore previous versions if you need to. Set up an integrated approval process for documents that are ready to review.
Show less
Move your work files to the cloud without compromising security and compliance.
Show more
Simple

Use the Office 365 admin center to manage user accounts, storage, and settings from anywhere. Also, OneDrive for Business offers hybrid options to utilize your on-premises solutions with the cloud.
Secure

As an industry leader in cloud security, we care deeply about your files. We ensure that your files are encrypted in transit and at rest using the most advanced encryption methods available. We also ensure that our service meets rigorous compliance standards.
Trusted

We are built on the guiding principles of security, compliance, and privacy. We are verified to meet global compliance standards like ISO 27001, Data Processing Agreements, EU Model Clauses, HIPAA, FISMA, FERPA, SSAE 16 and others.
Show less
With OneDrive for Business, you always have the latest feature updates.
Office Online: Add to OneDrive
Add to OneDrive with Office Online.
OneDrive for Business reinventing productivity with Office 365
OneDrive for Business is online storage for organizations and is part of Office 365. It's the place where employees can store, sync, and securely share their work files across multiple devices and access them anywhere, anytime with ease. See how easy it is for people to get things done together with the power of Office 365 and OneDrive for Business.
OneDrive Integrated Advantage
Overview of OneDrive's integration with other Office 365 products.​
Subject Tags
OneDrive Online apps
Sync Settings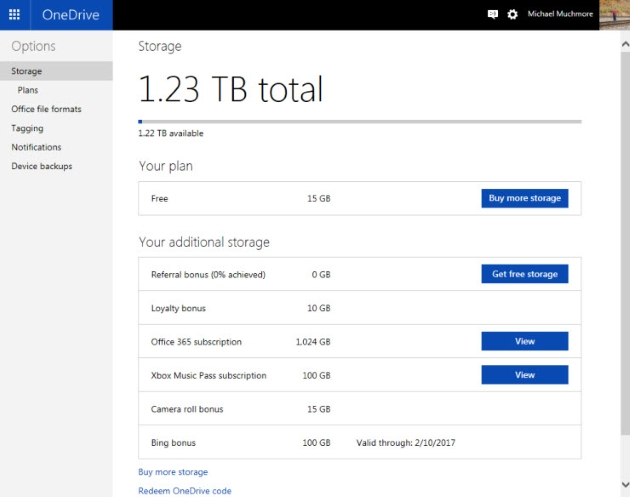 Storage
Fetch directory
All Plans Include
Guaranteed 99.9% uptime, financially backed service level agreement
Active Directory integration to easily manage user credentials and permissions
World-class data security
OneDrive for Business (Plan 1)
OneDrive for Business (Plan 2)
OneDrive for Business (Plan 1) - 24 Months
For 1 User And Above

1 month contract
For 1 User And Above

1 month contract
For 1 User And Above

24 month contract
Cloud storage for all your work files
1 TB cloud storage per user
Store files up to 15 GB in size
Sync local copies of files or folders for offline viewing and editing on Mac, mobile or PC
Share files securely inside or outside your organization
Access files from anywhere with OneDrive mobile apps for Android™, iOS and Windows
Cloud storage, plus advanced security and compliance features
Unlimited personal cloud storage
Advanced data-loss prevention to identify, monitor, and protect sensitive information
In-Place Holds to preserve deleted and edited documents for eDiscovery
Cloud storage for all your work files
1 TB cloud storage per user
Store files up to 15 GB in size
Sync local copies of files or folders for offline viewing and editing on Mac, mobile or PC
Share files securely inside or outside your organization
Access files from anywhere with OneDrive mobile apps for Android™, iOS and Windows
OneDrive for Business (Plan 2) - 24 Months
For 1 User And Above

24 month contract
Cloud storage, plus advanced security and compliance features
Unlimited personal cloud storage
Advanced data-loss prevention to identify, monitor, and protect sensitive information
In-Place Holds to preserve deleted and edited documents for eDiscovery